Written by Steve
October 07, 2009 20:56
 
The Lions of Detroit...where to begin...
 
We said it earlier in the week, picking on the Lions just makes you feel like a terrible person.
 
That doesn't mean we're not going to do it, mind you. After all, we'll probably be seated right next to Bill Belichick at the table in hell anyway.
 
But, we certainly aren't going to give them the kind of hatchet job we reserve for teams like the Ravens (nor should we).
 
Actually, since the Lions are in the NFC, we can't say we really know a whole lot about these poor unfortunate souls. Plus, we don't usually concern ourselves with teams that are more likely to make headlines when one of their coaches pulls up to a Wendy's drive-thru naked than they are by winning football games.
 
It's gotta be tough for the Lions, though, playing in a city alongside the perrenially-contending Pistons, the 2006 AL-champion Tigers and the 2009 Stanley-Cup-LOSERS, the Detroit Red Wangs.
 
Sidebar - in no way are we homosexuals (not that there is anything wrong with that), but given the opportunity, we'd probably put it in Jim Leyland's butt...
 
What a hat.
 
Back to business - Despite the fact that recently, the Lions have been arguably the worst sports franchise not named the Cleveland Browns, they can still put up some points. In fact, so far this season, they're averaging just under what the Steelers are averaging in that category.
 
Of course, given the Steelers first three games, that's kind of like saying Gary Coleman could beat up that dude with the metal grill from Moonraker just because he ran through the skinny kid from Road Trip and the main character from "That 70's Show" first.
 
Detroit's rushing offense is currently tied with the Chiefs for #17 overall...which oughta tell you much of what you need to know about them. But they're also ranked #15 in passing offense, and #18 in overall offense.
 
On the other side of the ball, the Lions are ranked #20 in rush defense, #27 in pass defense, and #23 in overall defense. IE - they ain't stopping anybody.
 
Nevertheless, we're fully aware of the ills that can fall upon a team that takes its competition lightly. Just because the Lions won their first game in like two years a couple weeks back, doesn't mean they couldn't put one over on the Steelers.
 
That said, Steve has promised that if the Steelers win, he's buying everyone Frosties. So James Harrison, Lamarr Woodley, Ben, Hines and the rest of the Steelers better man-up. We're hungrier than Andy Reid after a full thirty minutes of starvation...
 
This guy knows what we're talking about.
 
And just one final note before we get to the breakdown portion of our post.....anyone in Detroit or headed there for this game, be sure to shake Nic Lidstrom's hand after it's all over. His sandy vagina will appreciate it (Go Pens).
 
Now, on with the show...

Quarterback
 
Having been selected #1 overall this past April and rained on like Seattle, there was little doubt that Matthew Stafford would be the Lions starter this season.
 
What a situation for a nubile boy like Stafford to step into. While some might argue that he had a tall order in front of him after the Lions went winless last season, we could easily argue the opposite.

For example, he couldn't possibly do worse than this...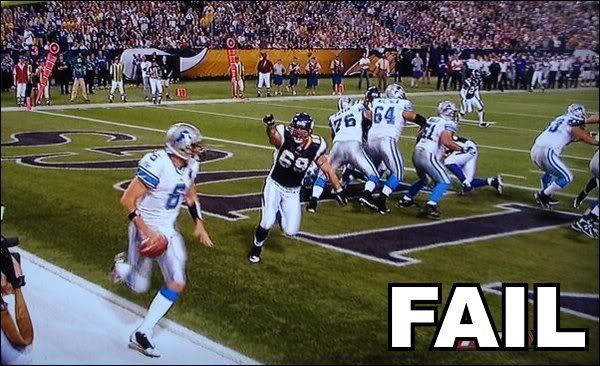 Anyways, Stafford injured his feelings (knee) last week against the Bears, so it's unclear whether the Steelers will draw him or former Sex Boat Captain, Daunte Culpepper.
 
If the Steelers get Stafford, they'll be looking at a kid who is ranked between Jay Cutler and Kurt Warner in passing yards. Which in all honesty, isn't exactly JaMarcus-esque. And with Calvin Johnson around, frankly, he could be Jeff George and we'd still be slightly worried.
 
If the Steelers get Culpepper, they'll be looking at a guy who was past his prime the minute Randy Moss got traded to the Raiders. He's 32, has the knees of a 90-year-old arthritic, and hasn't had a good year since Lil' Jon hit the charts with his iconic composition entitled, "Yeah."
 
So in either case, we hope Silverback's hungry, because this is about as good of a QB buffet as it gets.
 
WOOOOO!

Running Back




2nd year pro, Kevin Smith starts at tailback for the 1-3 Detroit Lions. You may know him from his hilarious movies such as Clerks and Mallrats.

Get it? The Lions starting running back has the same name as a movie director. We acknowedgle that reference is on the downside of hillarious. We don't have much prior knowledge of these dudes, sorry.

Smith has 74 carries for 234 and 3 touchdowns thus far.

Dogma was filmed in Pittsburgh.......so he's got that going for him.......

Former Seahawk, Maurice Morris, is Kevin Smith's backup. He's a poor man's Mewelde Moore.

A really really really poor, dirty man who asks you for change to get into the nudy booths.

Wide Receivers
 
He stayed up there for 3 minutes until he decided to come back to Earth.

Calvin Johnson is the best player on the Lions. Period.

This is how he picked up chicks in college:



And, this is how he picks up paychecks in the pro's:


So as you can see, the man they call "Megatron" can punish you in every which way.

Coach Tomlin said Ike Taylor will be matched up against Johnson for the majority of Sunday's game. He'll face OchoCinco (twice), Greg Jennings, Derrick Mason, and Brandon Marshall this year, but we feel this will be his toughest opponent.

We don't even need to tell you about Bryant Johnson, Dennis Northcutt (he still plays???), Penn State product Derrick Williams, and former Raven Yamon Figurs....cause really, if Stafford throws to them instead of Johnson........Lions lose.

Offensive Line
 


Pens beat the Red Wings in the Stanley cup - Dominic Raiola starts at Center for the Lions.

Max Talbot scored 2 goals in Game 7 - Stephen Peterman starts at Right Guard for the Lions.

Marian Hossa left the Pens, to go to the Red Wings, to win a cup, and he lost.....to the Pens - Gosder Cherilus starts at Right Tackle for the Lions.

Sidney Crosby became the youngest Captain, to win the Stanley Cup - Jeff Backus starts at Left Tackle for the Lions

We really hope Detroit fans read this or this section was pointless - Manny Ramirez starts at Left Guard.

No typo, their left guard is really named Manny Ramirez. How wacky.

Defensive Line
 


Bet if that were a McGriddle, he'd catch it.

This genetic disaster is the anchor upfront of the Lions defense. Grady Jackson (and his big ass belly) is known as one of the better run stoppers in the league, but get him moving sideways and the entire city of Detroit could shift and sink into Lake Michigan.

Rookie Sammie Hill starts at the other DT spot opposite, the Hamburglar mentioned above. Hill is the first player ever drafted to the NFL out of Stillman University.

If you can name in what state Stillman University is located, (with out using the Internet you silly cheaters) you win an official OFTOT T-shirt. Not available for public release until 2032.

What a deal!

Dewayne White and Jason Hunter patrol the ends upfront for the Lions. They have been as affective as your ShamWow has been this season.

Don't tell us that product works, it's a wash cloth with bumps. You could buy the same thing at Wal-Mart for 2.88.

Plus, their spokesman hits hookers......and that's just not very nice.

Linebackers

 


The linebackers for the Lions can play some ball.

Let's start with our old friend, Larry Foote. Larry left the Steelers after they did not re-sign him following the Super Bowl victory, this off-season. A Detroit boy and graduate of the University of Michigan, Larry decided to return home to his lovable Lions. Now, we love Lawerence Timmons just as much as Cotter loves Mint Milano cookies, but we do miss Mr. Foote. He is the star of one of the coolest Steelers pictures of all time:




Larry is going to have a blast on Sunday going up against his former team, and should have a great game.

Best of luck to you Larry.

Do work.....but not too much......

We forgot that former all-pro, Julian Peterson, is on the Lions roster until we checked out their depth chart. From what we can remember, Peterson is a pass -rushing outside linebacker that also have the ability to stop the run.

Former first round draft pick and FSU standout, Ernie Simms mans the other outside position.

Secondary
 


We already told you that the Lions secondary is about as solid as our turds after a long night of drinking PBR.

CB William James has played nine years in the league and we've never even heard of him. According to his stats, he hasn't played a full season since 2004, and this is his 3rd team in four years after the Giants released him due to "severe back problems." Sounds about as scary as one of the Teletubbies.

CB Anthony Henry has played for both the Browns and Cowboys in his nine year NFL tenure, and his presence in Detroit is a result of the trade that sent Jon Kitna to the Cowboys this past offseason. Translation - whatever.

The only thing we know about SS Kalvin Pearson, besides that he was an undrafted free agent who originally signed with the Browns, is that last year he was arrested for strangling a pregnant woman. Hopefully Darwinism will finally step in and by the end of the game, he'll have been ritually violated like he just spent a year in San Quentin. Unbelievably dismal homo sapien right here. Football-wise, he seems like a decent Safety, although he's more of a Special Teams guy.

FS Louis Delmas is a rookie who appears to be the brightest star in the constellation that is the Lion's secondary. According to one of the obligatory draft experts (the one not named Mel Kiper), he was a top 10 prospect at the Safety position. The Lions took him as the 1st pick in the 2nd round and he went on to win Rookie of the Month for September. We honestly have nothing bad to say about this guy.

Regardless, this is the same secondary that got rocked for SIX passing TDs by Drew Brees in Week 1 (and gave up 340 yards to Jason Campbell in Week 3). The Steelers may not be the Saints when it comes to throwing the ball around, but they do have the league's #3 passer and some great pass-catchers. So we like our chances here.

Head Coach
 


"May the Schwartz be with you!"

Jim Schwartz is the Lions Head Coach that has provided us with a great excuse to make a Spaceballs reference.

The first year head coach has already won more games than last years head coach.......one.

That's what you call progress, people.
 
By the way, Jim, we see your Schwartz is as big as ours...


And on that note, we're shutting this thing down.

So there you have it.
 
The net result = the Steelers face the NFL equivalent of the Pittsburgh Pirates.

Are you scared of the Lions and the upset?

Could they really beat the Steelers?

We say, nay.

Obligatory Footer - If you haven't already, become a fan of OFTOT on Facebook, join the blog networkand follow Cotter and Steve on Twitter. Or don't. Your choice, really.